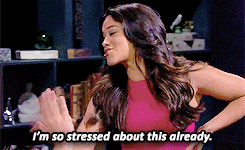 At the beginning of every year, the majority of the world decides to make New Year's Resolutions. I used to take part in this ritual, and make my long list of things I wanted to change in the upcoming year. My list would be super long and included things that were damn near impossible for me to achieve in a year. I would repeat this ritual each and every year; then forget about it within the first few months of the New Year. A few years ago I completely stopped making New Year's Resolutions altogether.  I never followed through so it was a complete waste of time for me.  I felt it was more of a hindrance for me than anything.
While I still think that it is important to have huge yearly goals, I believe being realistic with oneself is essential. This year I decided to make goals for myself each month instead of yearly goals. So far, it has been going much better than I anticipated. Having goals I meet on a monthly basis doesn't overwhelm me as much. I find it kind of fun to cross things off my list as I complete them.  I feel like I am accomplishing things on a smaller scale, which will lead me to accomplishing even bigger goals. I don't always complete each and every monthly goal I set, but I don't beat myself up about it. If I don't meet a goal on my list, I just rewrite it under the list for the upcoming month.
Today is the last day of May. It's time to make my goal list for the month of June. As usual, I have so many things I want to get done. But I have chosen the most realistic goals I can meet within this month. I want to share my list with you all. If you're a over-thinker like me, I hope this will encourage you to try something different.
June Goals
Work out at least 5 days a week
Drink more water
Make my first Youtube video
Meal plan
Live in the moment
Focus on managing my stress levels
Try something new
Do you have any new goals you are working on completing? Leave a comment below & share them with me!
---